EG4 is the upcoming and as-of-yet to be named fourth studio album by English recording artist Ellie Goulding, set to be released in 2019.[1]
Background
Edit
In March 2016, Goulding announced that she was taking a break and stated that she was not writing new material and was not sure when she would release a new album, adding that it might not be released next year.[2][3]
In April 2016, Ellie told Daily Star Online
"
"I honestly have no idea when I will be working on my next album, I have been in the studio for other bits of work but not for an album as such. I've done a few collaborations and there are a few things in the pipeline, but to be honest I am snowed in with my tour at the moment. If I release the album it will be with songs I record in the next few months." [4]
"

—Ellie Goulding for Daily Star Online
On May 20, 2016 Naughty Boy firstly announced "Should've Been Me" at the Ivor Novello Awards in London on the 20th of May, 2016 and he exclusively told BANG Showbiz:
"
"My next single is with Ellie Goulding - that's an exclusive! It's called 'Should've Been Me' - I have not told this to anyone before." [5]
"

—Naughty Boy at the Ivor Novello Awards in London
It is unknown as to why Ellie Goulding was removed from the track. Possibilities of this issue include the unsuitability of the song for Ellie or Goulding may have rejected in working with Naughty Boy.
On August 19, 2016 she released the song "Still Falling For You" for the soundtrack to the film Bridget Jones's Baby and its music video premiered on 25 August 2016.[6][7]
On January 6, 2017, Goulding had announced that she has already started on making new music and possibly her new album. It may however also be a re-issue of "Delirium" however it is unlikely as the Target edition already has an abundance of tracks.
The singer has been working in the studio with some of her usual collaborators including Klas Åhlund, Jim Eliot or Carl Falk. In 2017, Goulding has also worked with producer Bloodpop and British singer/songwriters Raye and Andrew Jackson, which have been documented on her social media accounts.
Later in April 2017, an unreleased song: "President" was leaked however, Ellie had stated on Twitter that it was not her song.
In an interview with Lorraine in March, Ellie stated that
"
"I will play lots of festival this year but not a whole tour. Frankly, I'm exhausted so I probably will chill with the touring but I am aiming to bring some new music out at some point,"

She also added that, "I think it's ok if I get the urge and I've got a song that I want to give to my fans I think I'm just going to do it!" [9]

"

—Ellie Goulding for Lorraine
On April 23, 2017 producer Bloodpop posted on Instagram a photo of him with Goulding with the caption "Summer 17 @EllieGoulding" speculating that there maybe a new song released in Summer 2017 featuring work from Bloodpop. [10] Alongside this Ellie filmed a music video according to her stylist Cher Coulter's instagram account. [11]
Later, on April 28, 2017, Ellie Goulding collaborated with Norwegian mixer, Kygo on the single: First Time.
On October 19th 2018 Ellie Gouliding cleared all her socail media accounts (twitter,facebook and instagram). On instagram Ellie posted 3 photos of a black cheetah print and also made it her profile picture on twitter her header and profile picture are the black cheetah print as well as facebook leading fans to believe a new era is about to begin as Taylor Swift did the same when starting her Reputation Era.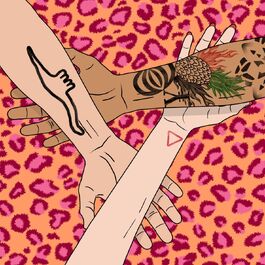 On October 22, 2018 Ellie Goulding posted on her social media after deleting everything days before with the caption CLOSE TO ME with the a picture of three arms linking. The three arms appear to have the tattoos of Ellie, Diplo and Swae Lee possibly hinting at a collab between the three of them. It is still unknown if this is The Lead Single for EG4 or just a single. Many speculation appears to be that this is indeed the Lead Single and will be out October 24th or October 26th the release date is still unknown.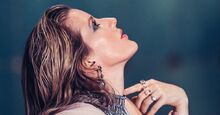 Collaborations
Edit
The collaborations followed may or may not be for the album.
Many have speculated that there was going to be a new track with Calvin Harris and another male artist. In April 2016, Ellie asked BBC Radio 1 to ask Harris about the new song. Harris stated that
"
"It's impossible to say, isn't it? She did record a vocal for me but there's no hook at the moment, erm, to that track. So it's kind of hard to say. I think she needs to get back in in order to finish it. I can't just conjure something up. I'm not trying to do a Kylie [Minogue] and Jason [Donovan] Especially For You duet." [12][13]
"

—Calvin Harris for BBC Radio 1
On September 13 2016 Harris asked his fans to guess the feature for his song "My Way" and many speculated that it would feature Goulding. It was later revealed that the song only had Harris on it. [14] Later, Harris stated that there was a new collaboration with a female artist and a male artist and fans theorize that it would feature Goulding and John Newman.
On November 18, 2016, Jamaican rapper, singer, songwriter, musician, record producer and actor Sean Paul had stated via Twitter that he had collaborated with Goulding on an album track for his new album. [15]
After London-based producer Jonas Blue remixed Goulding's "Still Falling For You", he hinted a possible collaboration with Ellie Goulding via Twitter. [16]
Rumours that American DJ duo, The Chainsmokers have collaborated with Goulding surfaced after Ellie Goulding and The Chainsmokers followed each other on Twitter.
Norwegian musical production trio, Seeb have also confirmed that they may collaborate with Goulding on a new track. [17]
On April 28, 2017, Ellie Goulding collaborated with Norwegian mixer, Kygo on the single: [First Time (song)|First Time]].
During his live set at Tomorrowland 2017, Martin Garrix debuted a collaboration with David Guetta titled So Far Away. It features vocals from Ellie Goulding and a male singer who remains to be confirmed.
On January 3, 2018, Ellie Goulding tweeted "Back in the studio like" with a video of a man messing with some musical concoction. She then added the hashtag #EG4 and #2018.
References
Edit