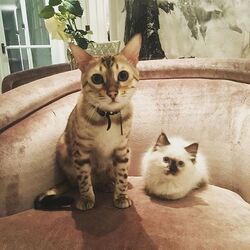 Eve
is a male cat and has been
Ellie Goulding's
ever since the start of 2017. The cat's name, "Eve" was revealed when Goulding replied to a fan on Twitter.
[1]
Eve is a white cat (presumably male) with a grey-blackish tint on its ears, paws and nose. It is currently approximately thrice as small as Ellie's other cat Wallace and seems to be friends with Wallace also. [2]
It is speculated that the cat was named 'Eve' as Goulding had adopted the cat on New Year's Eve. Eve may have been a replacement for Lennon.
References
Edit
Ad blocker interference detected!
Wikia is a free-to-use site that makes money from advertising. We have a modified experience for viewers using ad blockers

Wikia is not accessible if you've made further modifications. Remove the custom ad blocker rule(s) and the page will load as expected.